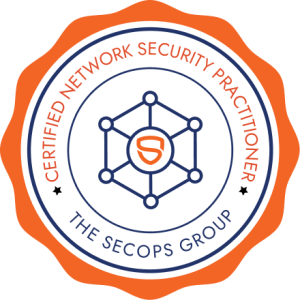 Certified Network Security Practitioner (CNSP)
Certified Network Security Practitioner (CNSP) is an intermediate-level exam to test a candidate's knowledge on the core concepts of network security.
£250
£100
Who should take this exam?
CNSP is intended to be taken by security engineers, network architects, SOC analysts, penetration testers, red and blue team members and any security enthusiast, who wants to evaluate and advance their knowledge.
What is the format of the exam?
The exam includes Multiple Choice Questions (MCQs) covering the syllabus. The time duration of the exam is 60 minutes. The exam will be proctored but can be taken online, anytime (on-demand) and from anywhere. The exam will cover a variety of questions which are both factual and scenario based.
What is the pass criteria for the exam?
The pass criteria are as follows:
Attendees scoring over 60% marks will be deemed to have successfully passed the exam.
Attendees scoring over 75% marks will be deemed to have passed with a merit.
What is the experience needed to take the certification?
This is an intermediate-level course. It checks the understanding of core fundamentals in relation to network security topics. Attendees should have knowledge of common security misconfigurations, best security practices, defense-in-depth measures as well as an overview of how vulnerabilities can be exploited in the real world scenario.
Note: Professional pentesting is not a requirement for this certification.
What will the attendees get?
On completing the exam, each attendee will receive:
A certificate with their pass/fail and merit status.
The certificate will contain a code/QR link, which can be used by anyone to validate the certificate.
What is the exam retake policy?
Candidates who fail the exam, must purchase a new exam voucher.
What are the benefits of this certification?
The certificate will allow attendees to demonstrate their understanding of Network Security. This will help them to advance in their career.
Certification syllabus
The exam will cover the following topics
TCP/IP (Protocols and Networking Basics)
OSI Layer
IPv4 and IPv6 addresses
Router, Switch and Hub
Network Discovery Protocols.
Network Architectures, Mapping and Target Identification
Network Scanning & Fingerprinting
Testing Network Services
Cryptography
Active Directory Security Basics
Linux and Windows Security Basics
Common vulnerabilities affecting Windows Services
Testing Web Servers and Frameworks
Basic Malware Analysis
Social Engineering attacks
Network Security Tools and Frameworks (such as Nmap, Wireshark etc)
Open-Source Intelligence Gathering (OSINT)
Database Security Basics
TLS Security Basics
Password Storage
What is the response from a closed UDP port which is not behind a firewall?
An ICMP message showing Destination Unreachable
A RST Flag Packet
A FIN Flag Packet
No response

Certified Network Security Practitioner​ (CNSP)